My view for future pneumatic tools ...
My view for future pneumatic tools exportation business
2013-08-12 10:47:39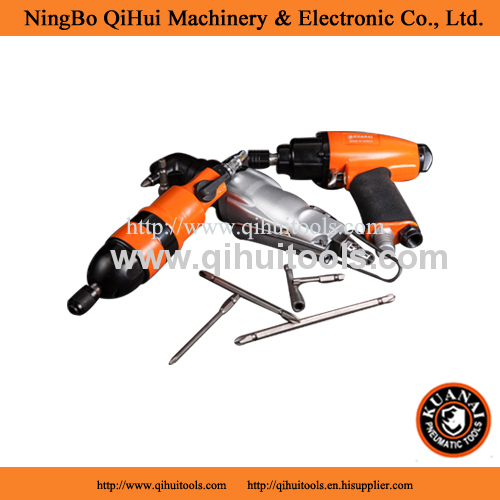 Domestic industries grow fast in recent years. Demand of pneumatic tools is larger and larger. Series of pneumatic tools are various. Manufacturers of the pneumatic tools are more and more.
Talking with friends about the market environment of pneumatic tools, many of them showing they are worried. The reasons are: cost increase, financial crisis, low demand, peer competition, narrow profit. While talk about the exportation of pneumatic tools before, many of them said the quantity of export could more than two containers each month. Customers placed one order with large amount. Each month could receive many orders from customer. These could not be heard in our talking now. I think the basic reason is the biggest difficult problem we are facing: Very few companies could design out new product with high and precision quality to supply in the market. This difficulty is not easy to be solved.
Pneumatic tools were imported. Domestic manufacturers studied them and make out the similar. They just change the shell or replaced by a new color of the pneumatic tool to show it to the market and say it is a new model. Core spare parts such as motor part and power part remain no change. Simple technology is needed, no new technology is created and applied, causing more and more manufacturers join this industry. Intense competition between suppliers caused low profit. Low cost but low quality spare parts are used, low quality pneumatic tools are produced. Many big buyers of the pneumatic tools are stop buying and checking if the quality worth them to buy big quantity. Dealers are looking for max profit with min risk. They are comparing quality and price.
Personally I think, as a manufacturer, we should have our own product standard. Do not just make the similar product which is momentarily sold well. We manufacture the tools is for increase the working efficiency. If the product we design is not fit for develop of the industry, has no advantage than other tools, then, the design is useless. Most of the manufacturers chasing short term benefit, ignore create good quality product. It needs a long time to check the product quality in the market. We should remain good relationship with our customers to listen suggestions from them. We should update our product quality to be more advance then others. We do design but not simply copy. We study one product to separate the advantages and disadvantages. The new product means we design a new technology to replace disadvantage. Pneumatic tools industry is similar as auto industry. Generation updated, problem found in the using. Each improving made the car more technical, precision and professional. Each technology of updating becomes the core point of selling. Newly updated product has the higher lever than others. Sellers will avoid price competition and explore the market supported by these really new technologies.
---